SUPPORT
KNAACK PRODUCT TRAINING
FREE Online Training
Welcome to KNAACK's Online Product Training
This interactive program is designed to keep professionals safe by educating users on how to use KNAACK® jobsite equipment safely.

Immediate tips on how to best use KNAACK® equipment
Convenience - Online training is 24/7
Work at your own pace
It's FREE
Multimedia and interactive simulations
Checkpoints throughout courses
Stop and restart where you left off
WE OFFER THE FOLLOWING FREE ONLINE TRAINING COURSES
KNAACK® Core
KNAACK® provides maximum security for tools and equipment on jobsites 24/7. No one has a better track record of proven protection. But KNAACK® innovative jobsite storage equipment takes jobsite protection to the next level and beyond by offering more than secure boxes. This course explores the KNAACK® brand promise, its extensive product offering and reviews the product features that make KNAACK® the #1 selling brand.
Take the Course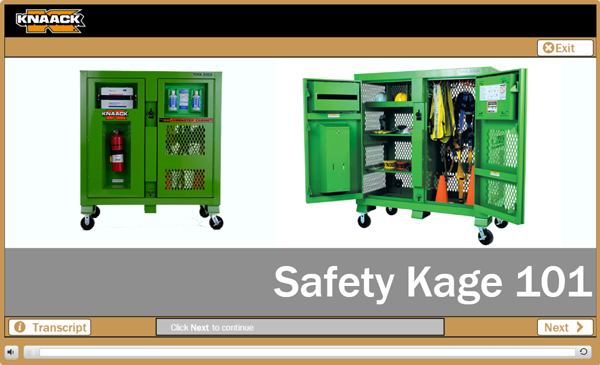 KNAACK® Safety Kage™ 101
The KNAACK® Safety Kage™ cabinets are an Industry First, one-stop-shop for Jobsite Safety. This course teaches the features and benefits that make these cabinets unique.
Take the Course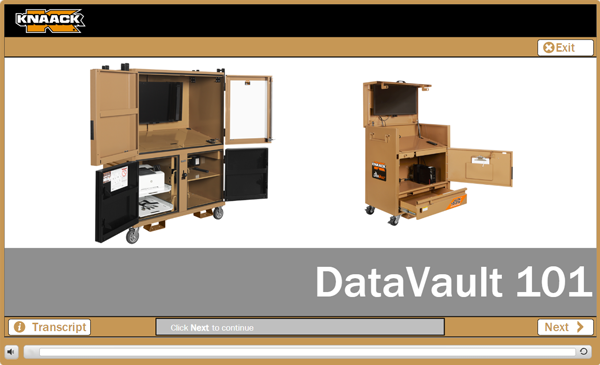 KNAACK® DataVault™ 101
A step above the traditional jobsite protection device, the KNAACK® DataVault™ Mobile Digital Plan Stations are customized to the professional's demand with technology best suited to improve business efficiency. This course teaches about the opportunities, user's needs, and features and benefits of the DataVault™ .
Take the Course